Locally Owned Retail Store Or Restaurant?
We Need Your Help!
"KeepItQuerque" has ordered an economic study for Albuquerque MSA
This study will determine the specific increase in economic impact from spending a dollar from a locally owned business rather than a large mega-box store or national chain restaurant.
We need your help if you are the owner of a restaurant or retail store.
We have hired a well respected national research company, "Civic Economics", to complete a research project specifically for Albuquerque MSA. We need more retail stores and restaurants to complete a 5 minute, 20 question survey created by "Civic Economics" to help with the calculation.
This kind of study has already been done for Salt Lake City and you can see the results here:
Salt Lake Economic Study Results
Please call Duane Trythall at (505) 262-1871 to help us help you and get the link to the survey.
October "Show Your Stuff" Event
Survey Finds Independent Businesses Benefit from "Buy Local First" Campaigns, But Challenges Loom
Many of our members participated in the 6th Annual national survey of independent locally owned businesses from across the nation conducted by the "Institute For Local Self Reliance". It showed that organizations like KeepItQuerque ARE having an impact on local business revenues. Help Us Get The Word Out! Go right now and check out the amazing results of Buy Local campaigns across the country:
2013 Independent Business Survey
.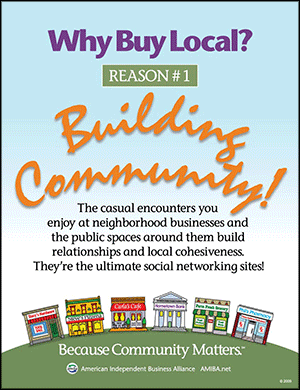 Learn How You Can Help Us Improve The Albuquerque Economy And Bring Jobs Back!
Community Outreach Sponsors
Long Leash On Life (Click for More Info)
New Economic Study Shows Local Businesses return 382% more to the Local Economy than Chain Retailers
Connect With KeepItQuerque On the Following:
Champion locally-owned business and promote "Buy Local"